Ford Customer Car Showcase - Hubcaps.com
Welcome to the Ford Classic Cars page, our dedication to some of our customers and their beautiful, vintage cars! This page is a way for us to share some of the great photos, stories and experiences that we have accumulated throughout the years and a way for our customers to shine the spotlight on their classic cars. The wheelcovers gracing these Fords were restored by our on site team of experts and we'll admit it, we kind of want to brag about amazing work that we produce. At least this way, you can all enjoy it too! Hubcaps.com has been in business since 1979 and a portion of our inventory is made up of rare, vintage pieces of history that we restore on a daily basis for our customers. Please feel free to browse and thank you so much for your interest!
Featured Cars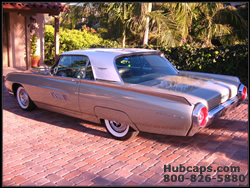 Take a look at this 1963 Ford Thunderbird and get a little piece of automotive history at the same time! Pay close attention to the spotless, factory original '63 wheelcovers that we restored for this customer. More....
1963 Ford Thunderbird
Please take a look at the 1970 Ford Ranger that now has fully restored hub caps to add that last special touch. For those of you who love the quality of work we can produce, contact us for more information. See more here!
1970 Ford Ranger XLT
Get your sneak peek at this vintage 1979 Ford Thunderbird to see for yourself what kind of work our company does! This classic muscle car has a special place in the Ford line up and we are pleased that we could add a little more beauty to an already beautiful car by refurbishing center caps for it! Click to continue....
1979 Ford Thunderbird
You have to see this 1971 Ford Falcon 500 yourself to believe it! Take care to check out the wheel covers that we restored for a customer in Australia, over 8,000 miles away from our Southern California store! More info.....
1971 Ford Falcon
Don't pass up the opportunity to see a truly rare and beautiful classic car! Check out the "Aussie" 1968 Ford Fairlane ZB Custom car that now features fully restored wheel covers from Hubcaps.com! Full story here......
1968 Ford Fairlane ZB Custom
Look at this 1963 Ford Fairlane 500 that we helped recently! This car is a daily driver that turns heads wherever it goes, especially with it's new set of restored hubcaps. Don't miss out, it truly is a beautiful automobile! Click to continue!
1963 Ford Fairlane 500
Get a look at this customer's 1964 Ford Thunderbird that we reconditioned a set of hubcaps for! In its current home in Saudi Arabia, it draws looks and pictures wherever it goes, we're not surprised! Click to see more!
1964 Ford Thunderbird
Check out our customer's 1972 Ford F100 'Highboy' Truck! This bright gem lives in California and recently got a set of restored wheel covers to add to its already pristine look. More details.....
1972 Ford F 100 Truck
Hurry and check out this classic 71' Ford Thunderbird and its newly restored wheel covers before it sells! To take a moment to see more pictures and a video about this amazing machine, Click right here.....
1971 Ford Thunderbird
Don't miss out on your sneak peek at this beautiful 1968 Ford Galaxie that we recently restored a hubcap for! This family car was purchased new over 40 years ago by our customer's father and is still in immaculate condition. Click right here to see more.....
1968 Ford Galaxie