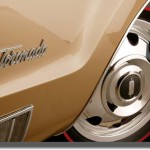 To the average person, Jay Leno is the hilarious host of "The Tonight Show, starring Jay Leno."  But to motor-heads, he's known as one of America's foremost collectors of fine automobiles. His personal "garage" contains cars running the gamut of automotive design.  Million-dollar foreign sports cars with names you can't pronounce, antique touring cars from blue-blood lines like Duessenberg, muscle cars like the Hemi-powered 1970 Charger, born in the infancy of America's flirtation with power and speed on the road.
Amid this multi-million dollar investment, Jay could easily lose track of the small things that put the finishing touches on a lovingly restored car.  But he doesn't.  Jay dresse's out each of his projects completely, right down to choosing the perfect wheel covers or hubcaps.  To finish off this amazing 1966 Oldsmobile Toronado, Jay went shopping for the perfect Dog Dish style hub cap and landed on Hubcaps.com !  Check out these pics of what could be the world's greatest "sleeper" car.  This isn't your father's 1966 Toronado!  Beneath this unassuming skin lies a 1,000 horsepower twin-turbo engine from GM Performance Parts.  (It's a small block!)  The car was masterminded by Bernard Juchli at Jay Leno's "Big Dog Garage" in Burbank, California.  To harness all that horsepower, Bernard and company had to get rid of the venerable front-wheel drive that some consider a hallmark of the Toronado.  A bit of brilliant mechanical surgery replaced the old system with a donor suspension, torque tube, and rear-mounted transaxle from a C5 Corvette.  1,000 horsepower being pushed through a Corvette rear-end?  If Grandma has a heart condition, you probably don't want to take her for a ride in this "old" Toronado.  Congrats to Jay Leno and his great crew at Big Dog for creating a dream "sleeper" street rod!
And thanks for choosing Hubcaps.com!
April
Hubcaps.com