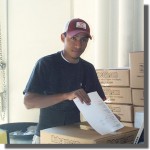 Hubcaps.com has a dedicated shipping department which takes care of all of our customers needs.  When you purchase a hubcap or wheel cover from us, whether it be by phone or internet, that hub cap goes through a process.  This process has a number of steps.  Your hubcap or center cap will be detailed in our restoration department.  Our restoration department is incredible.  Your wheelcover will look brand new.
Your hub cap or center cap will then proceed to our packaging department.  Our guys package each center cap or wheel cover with great care.  We want it to arrive to you in the same condition it leaves us.  We use lots of packaging paper to cushion your cap.  If you've ordered our Hubcap Tool , that will be wrapped separately and carefully placed in with your hubcap.  Once your order is securely boxed up and sealed, it will be sent down to our shipping computer.
In the picture above, you can see our Lorenzo getting ready to ship out one of our orders.  Our default method of shipping is UPS Ground and it's free within the continental U.S.  If you have something that needs to get to you more quickly, just give us a call and we can work out an expedited shipment for you.  If yours is an international order, we ship via United States Postal Service.  We usually process about 150 orders a day and things run very smoothly out there.  Shipments are picked up by UPS, Monday through Friday.  If you've given us your email address, you will receive an email from UPS that includes your tracking number so you can see exactly when your hubcap will arrive.
That's about it for our shipping department.  We've been doing it this way for many years and we think it's a great system.
Let us know what you think!
April
Hubcaps.com