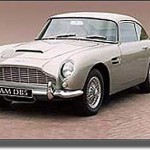 During some internet surfing time last week, I came across an interesting read.  I found an article discussing the best cars of James Bond's, agent 007. I personally got a kick out of reading the article especially when I read about two specific cars.  The 1964 Aston Martin from "Goldfinger" and the 1985 Aston Martin Volante from "The Living Daylights".
James Bond, played by Sean Connery, raced around in the 1964 Aston Martin.  It had everything a secret agent would need.  It had a passenger ejection seat, an oil slick dispenser, revolving license plates, machine guns, a bulletproof rear end and best of all…tire slashing hub caps !
Timothy Dalton's James Bond was lucky enough to drive the 1985 Aston Martin.  This beauty came equipped with bulletproof windows, a dashboard weapons control system, concealed rockets, a jet propulsion device and yep, you guessed it…Laser beams hidden in the hubcaps.
Now, sadly, we here at Hubcaps.com have neither tire-slashing hubcaps nor laser beam hubcap.  But we do have all original hub caps and wheel covers .  We have a team of dedicated restorers that make each cap look like new and we have free shipping inside the continental U.S. Call us if you're looking for something special or something for your daily driver and we'll go out of our way to help you out.
Take care and Happy New Year!
April
Hubcaps.com