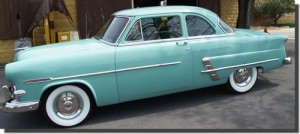 Good Morning, Good Morning!
We have another picture from a happy customer.  Dave Wesley came to Hubcaps.com when he was looking for hub caps for his 1953 Ford Customline Club Coupe.  This beautiful car has been in his family since 1957 and was purchased new by neighbors.  For the past three years, this mid-year edition Ford has been undergoing a show quality restoration.  He purchased our FRD53 Ford Hubcaps and don't they look incredible?
Dave plans on entering his Coupe into competition on the east coast and it certainly looks like he'll have no trouble taking home some trophies.   I absolutely love this car!  Thanks for sending us your story and the pictures, Dave.  We really appreciate it.
As always, give us a call if you're looking for a hubcap or wheelcover for your restoration.  Give us a call if you're just missing a hub cap.  If you'd like your story told, email me here.  I'd love to hear from you.
Till next time,
April
Hubcaps.com