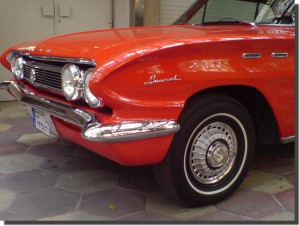 Hello everyone! Hope you've all had a great week. For me, the time just flew by. I can't believe it's Thursday already. We've been busy here at Hubcaps.com looking through all the e-mails that our customers have sent us.
This beautiful 1962 Buick Special Convertible comes to us all the way from Lebanon. Roubine Kibinian spent three years restoring this beauty, with many of the parts coming from the United States of America. When he was ready to purchase hub caps for his Buick, he visited and found the original wheel covers for his beauty. He purchased our B3  Buick wheelcovers and don't they look sharp?
For those of you thinking about restoring a classic car or truck, give us a call. If you're nearby, across the country or around the world, give us a chance to help you. We frequently ship our hubcaps and center caps internationally and will try to accommodate you in any way that we can.
Don't forget, send me pictures and your story and I'll get you posted here as soon as I can. Thanks to you all.
Have a great weekend!
April
Hubcaps.com