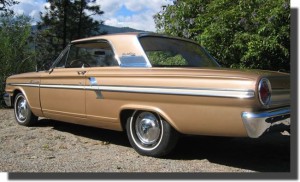 Hi all and Happy Thanksgiving Week!
I'm so excited for Thanksgiving.  I truly have so much to be thankful for.  I hope the same for you all.  Today, I'm posting a little e-mail from one of our customers.  They were very pleased with the hub caps we sent them for their 1964 Ford Fairlane Sports Coupe that they found on our Fairlane Hubcaps page.  As you can see in the picture, the wheel covers look awesome.
"Greetings,  It is Christmas in September.  The hubcaps you sent to Barry, my father in law, have found their new home. Barry purchased this Ford Fairlane Sports Coupe, new, on October 13th, 1964. Debbie and I took possession on May 10th, 1989, with bogus caps because of an earlier theft. Today we have a "HAPPY" Sports Coupe in our garage. With 96,502 miles on the odometer, this Fairlane has not seen any restoration. What you see is original, including all the glass and paint. We hope to make this gem a project in the near future.  Thanks for all your hard work. You are professionals and it shows.  Andy, we thank you so much for giving us a chance to outfit your vehicle with the hubcaps, our M7 wheel covers on the Ford Fairlane page, that you need. They really look nice on there. If you're ready to purchase hub caps or center caps, please give us a try. We ship all over the world, including Austria and Italy, and we offer free shipping to the continental United States. This includes to the District of Columbia, Oklahoma and Alabama. Give us a call toll-free at 1-800-826-5880 or visit our web page at Hubcaps.com .
Happy Thanksgiving everyone!
April
Hubcaps.com