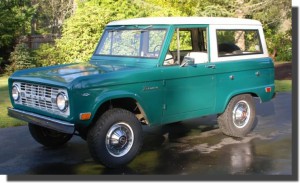 Good Morning Everyone, I hope you all had a great Holiday.
We all had a wonderful time here at Hubcaps.com.   Family, Fun, and Food…what could be better? Now it's time to gear up for Christmas!  Today we have a picture and some information on a great looking 1968 Ford Bronco with Bronco Wheel Covers .  It comes to us from Doug, in Redmond, Washington, WA.  When Doug was ready to put new tires on his Bronco, he came to us for the original wheel covers.  We sent him our FRD601 and FRD602 hubcaps and they look perfect!  Doug gives us a little background:  "I have attached a picture of my 1968 Bronco. Your hubcaps were an important part of making it look original again.  I bought this from the original owner in October of this year.  It was owned by a lumber company in Idaho and was used to drive from the local small airport to the mill.  It has 80,000 original miles on it and is in great condition without restoration.  It has the 289 V8 which was only avalible in the Bronco in 1968 and is a 3 speed manual.  When I bought it, it had 4 different brands of tires on it and non original hub caps.  Your hubcaps and 4 new tires are the only cosmetic change I will make to this car."
Thank you so much for the picture, Doug and for allowing us to share your Bronco with everyone else.  She looks awesome.  We so appreciate your business and hope that we can be of service to you again someday in the future.  We sent these wheel covers through our restoration department before shipping them free to Doug in Washington.  Our restoration department was able to restore them to almost like new condition and that is what they do on a daily basis with hub caps, wheel covers and center caps.  Let us take care of your wheel cover needs.  We guarantee that you'll be satisfied.  Remember, we offer free shipping to the continental United States, including Alabama, Nebraska and New Hampshire.  We also ship out of the country, using USPS, to places such as Norway, Japan and France.  Please don't hesitate to contact us with any questions you might have.  We're always happy to help.  Our phone number is 1-800-826-5880 or email us here at Support@Hubcaps.com .
Thanks all and take care!
April
Hubcaps.com