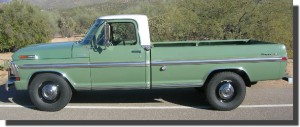 Good Morning and Happy Hump Day!  Wow! The time is just flying by here at Hubcaps.com. I can't believe that it's already the middle of February. It's almost Valentines Day! Yummm, chocolate!
Today we're showcasing Tim's 1970 Ford F250 Ranger XLT Camper Special with the OEM Truck Hubcaps from Ford. I absolutely love these old trucks. Tim's Ford has the original factory paint job which is Boxwood Green and Wimbledon White and a front bumper mounted winch. This truck has a 390 Engine with a C6 Automatic Transmission. It also has a Dana 60 / 4.10 Locking Rear End. And listen to this…This baby only has 67,000 original miles. Wow!! Tim purchased our FRDT55 Dog Dish wheel covers and they look spectacular on his baby!
Tim, thanks for sending us the information and pictures of your Ford. She's awesome. To the rest of you out there that have purchased wheel covers from us, I'd love to post a little something about your car or truck here on this blog. Feel free to email Karijia here at Karijia@Hubcaps.com and we'll get you posted.  With free shipping to the Continental U.S., we offer you a great deal on the hub caps or center caps that you might be looking for. Give us a call or visit the website. We'll do our very best to help you out.
Take care all!
April
Hubcaps.com