If you have a Fusion, then you know that it was first introduced to people like me and you for the 2006 model year. When it first came out, it was only available in front wheel drive .. but it had some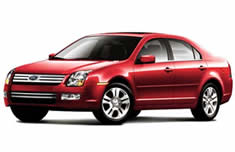 killer Fusion Hub Caps on it. Like the Freestar, it was available in three trims : S, SE and SEL.
The usual engine that was installed was a 160-hp 2.3-liter four-cylinder. When this was paired up with the standard five-speed manual, this engine was considered to be "peppy" enough; when it came with the five-speed automatic, the car struggled to even acquire speed. When it came to the SE and SEL trim, these were available with a 221-hp 3.0-liter V6 paired to a six-speed automatic. This is the V6 that improved the the Fusion's "thrust" to go fast.
The major changes for the '07 standard model included front seat airbags, side curtain airbags and an auxiliary audio jack. When you think about it now, these are the things cars need to have today or else they won't even considered for sale, you know?
Would you buy it?
Mykalanne.