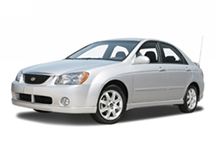 The secret to making a compact economy car appealing is to make it feel and drive like a much more expensive car than what it already is. It's not that the Kia Spectra didn't achieve all that, I just think that it could've done a better job.
Most people think that the car was "unrefined, underpowered and cheaply constructed" .. but at least the Spectra Wheel Covers look nice on it?
When the second generation came out, it was much better than the first one – but aren't second generations usually better? It had better style, it seemed as if it had better Spectra Wheel Covers installed, and had better substance and refinement. And even though it had all of these things, it seemed as if it was still at the bottom of the food chain.
What do you think?
Mykalanne.