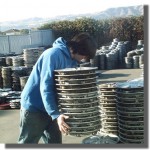 Recently the owner of Hubcaps.com and one of our employees (Matt, seen in the picture) had a chance to embark on a week long buying trip.  We usually take trips here locally each week to purchase hub caps and wheel covers but try to schedule in a big purchasing trip once a month or so.
We start off the trip by calling all possible locations that might have hubcaps of all sorts such as ford centercaps , chevy hubcaps , cadillac hub caps , toyota wheelcovers , and many more.  We speak with whoever runs the place and ask if they have any hubcaps to sell.  We have conversations with many people and begin to form friendships with some of them.
Just a couple of months ago, Rick and Matt flew into Seattle, picked up a huge U-haul truck, drove up to the Canadian border and began their trip through Washington and Oregon.  This trip was seven days long. Their days started at 7 am each morning and continued with them driving and searching through caps until midnight.
Starting near the Canadian border, they drove through Seattle, Tacoma, Olympia, and Spokane, stopping to look at hubcaps in many of the smaller towns and most of the bigger ones. They then wound their way down through Oregon, stopping in Portland, Eugene, Salem, Medford and other cities.  It's grueling work, driving and stopping to dig through someone's hubcaps, wheelcovers and center caps. We usually clean someone out, purchasing all that they'll sell us.
It truly is a lot of work for the two of them.  Out in the elements, fighting bees, spiders and sometimes snakes.  (Yuck) Our purchasers come home very tired but so pleased with what they were able to bring home.
On this particular trip, Hubcaps.com was able to acquire nearly 7,000 hub caps and centercaps to add to our growing collection. We were particularly pleased with the amount of older wheel covers we purchased which included a large lot of Mustang hub caps that span many different years.  Stay tuned for more posts on purchasing trips.  We have many planned!
April
Hubcaps.com