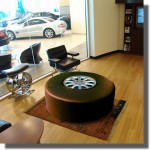 Check out this new product the Boss recently saw at the SEMA show in Las Vegas!
Mad about your Mini Cooper Hubcaps ?  Bonkers for your Beemer?  What could be better than bringing part of your favorite car into your house or business as furniture?  Shlomi Fattal, a.ka. "The Car Freak," has come up with a wild design idea that incorporates any custom hubcaps style or wheel into an honest-to-goodness piece of furniture!
In his Westwood, Ca. studio, Shlomi caters to the ultimate auto-enthusiast by designing and hand-crafting something he has dubbed " The Auttoman ."
As you can see from the picture, the piece not only looks cool, but it makes a definite statement about your love of racing, cruising, or just cars in general!  With the addition of custom-cut glass, the Auttoman can go from a one-of-a-kind seat to the world's coolest coffee table.
The wheelcover as art… Now that's something Hubcaps.com can definitely get behind!
April
Hubcaps.com