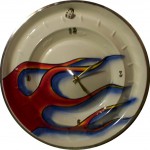 Here's an interesting idea. I don't know this person, but they've come up with a cool idea for recycling old hubcaps. Visit here to see the old 1955 Chevy hub cap they've turned into a wall clock. It really has me thinking. What a great idea!
Seems pretty simple to do.  Drill a hole, add clock works, install batteries and you've got yourself a really cool clock. I think these would be incredible for a boys room, game room or in those garages that are in much better shape than mine is. (Way too much stuff in mine)
This would be a great gift idea for that hard-to-buy-for person. (such as my Dad) Pick a cap from his favorite car or truck and turn it into something he'll be able to treasure forever.  I think the wheel cover for the 1954 Plymouth Wheelcover would be perfect as a clock.  I wouldn't paint it though, it's awesome the way it is. Just thought I'd share. Let me know what you think.
Take care,
April
Hubcaps.com