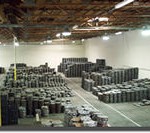 Hubcaps.com has acquired more than 6,000 hubcaps and wheelcovers , including some very rare finds, from Mr. Hubcaps of Mabank, Texas. Hubcaps.com has acquired the inventory of Mr. Hubcap, formerly of Mabank, Texas. Mr. Hubcap has been serving the community of Mabank, Texas for over 40 years. Mr. Hubcap originally began his long-running career in Dallas, Texas and eventually moved his location to Mabank, Texas where he continues the business today. During his time collecting and selling hubcaps, he was able to obtain many older hub caps, including some rare Firebird wheel covers .
Hubcaps.com was pleased to benefit from Mr. Hubcaps expertise and knowledge of wheel covers.
When Mr. Hubcap was ready to sell his inventory, he remembered a freeway billboard his daughter had seen in Texas for Hubcaps.com. Hubcaps.com currently has four freeway billboards in Texas. He contacted Hubcaps.com and negotiations commenced regarding his inventory. Hubcaps.com Owner and President, Rick Mefferd II, flew out to Texas and brought back the inventory from Mr. Hubcap in one trip.
Acquiring the inventory from Mr. Hubcap is a great shot in the arm for Hubcaps.com . As they continue to grow in the public eye, they will need to replenish their supply of hubcaps to keep up with the demand. Looking forward, inventory acquisitions such as this one, will be a necessary and vital part of Hubcaps.com future planning.
Hubcaps.com is actively searching for other companies that are contemplating liquidating their inventories. Please contact them at: Hubcaps.com 5611 Kimball Ct. Chino, CA 91710 800-826-5880 or 909-597-2600
April
Hubcaps.com