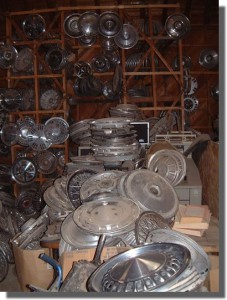 Hubcaps.com was so blessed to have been able to acquire an awesome load of hub caps and wheel covers from Clarence and his lovely wife Jill in Columbia Falls, Montana last week.  They had a hubcap store and had been collecting hubcaps for over 20 years.
We came away with a load of over 5,000 wheelcovers.  Some beautiful Chevy hubcaps from 1952 and 1953 and some Ford grease caps from the 1920's.  See, back in the old days, cars were made with wooden spoked wheels.  In the center of the wheel was the hub, which held the wheel bearing.  This wheel bearing was packed in grease and the grease cap went over the center hub to keep out the dirt and hold the grease in.  Hence, grease cap.
Very cool caps.  The trip took our buyer 4 days and he told me that it was just beautiful up there.  He hit a bit of rain and even a touch of snow but he loved driving by the rivers and the lakes.  We don't have too many rivers here in Los Angeles.  (You can't count the L.A. River…not nearly as beautiful)  We have a bunch of trips planned for the upcoming months.
Stay tuned!
April
Hubcaps.com