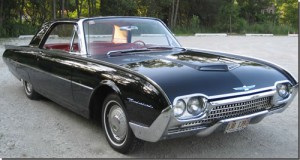 This comes to us from one of our loyal customers, Marian Rudnyk of Hollywood, California.  He has been a Hubcaps.com customer for some time now and we have helped him with Ford hub caps for 3 out of 5 of his restored vehicles.  Marian, thank you for your continued support of Hubcaps.com and for sending us these great stories and pictures.
This 1962 Ford Thunderbird was purchased 5 years ago for virtually a hand shake and a smile. It had been abandoned and forgotten nearly 40 years ago when the pilot who bought it parked it in an aircraft hangar, and then died at his flight destination somewhere across the country. When his wife decided to consolidate her estate, a DMV check reminded her that he had bought this new car in 1962. Driving out to the desert airport, the family found the car, still parked after all these years – with only 19,000 original miles on it! Unwilling to keep the car she let her son-in-law dispose of it, and he sold it to the present owner. With only minor restoration work, the car is now at near show quality. When a Ford Thunderbird hubcap was damaged last year, a beautiful original replacement, our AC2, was found at Hubcaps.com .
Some fun facts about the "bullet-bird" or "rocket-bird" as these particular Thunderbirds are called: They were only made from 1961 through 1963. Elvis Presley owned one. Bullet-birds such as this one were used for President John F. Kennedy's Inaugural motorcade. As a matter-of-fact, so many were needed that Ford asked many of it's customers if they wouldn't mind a delay in the delivery of their new cars so that they could be used by this Presidential procession. The convertible version of this car was used by Sean Connery in a James Bond movie, and they have appeared numerous times in TV, film and even album covers.  Thanks Hubcaps.com !  Marian, thank you again!  You rock!  Give us a shot if you're looking for a wheel cover or center cap for your classic car or truck.
We'd love to help you out!
April
Hubcaps.com