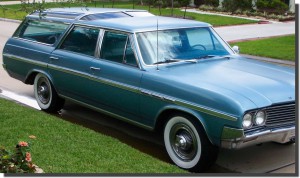 Good Morning and Happy Monday to you all from Hubcaps.com!
Brett Finley, from Tomball, Texas is our featured customer today.  He has a beautiful 1964 Buick Skylark Sportwagon that was purchased new by his parents and lovingly restored just this year.  He came to us when he was looking for original hub caps and purchased our 1964 Buick wheel covers , part number A16.  Here is what Mr. Finley shared with us about his baby. Presenting my 1964 Buick Skylark sportwagon with correct and complete, all original to this car 300 cu in "Wildcat 310" V8 and Super Turbine 300 2 speed automatic.  Factory air, PS/PB with stainless steel brakes front disc conversion for safety's sake requiring 15 X 7 inch 4.75 5 bolt factory style steel rims from Turner's Auto Wrecking in California and 4 original 1964 Buick Wildcat factory wheel covers from Hubcaps.com which I converted to original looking Buick "spinners" by transferring the spinners from the factory 14 inch wheel covers to the Hubcaps.com specimens maintaining a beautiful original look.
This car was purchased brand new by my parents and has been in our family its entire life thus far.  Original drivetrain ran for 30 years until retired to sit in a garage.  Resurrected, refurbished, rebuilt, refreshened from late Feb 2007 to first firing mid June 2007.  Car has absolutely original interior/exterior right down to carpet upholstery.  Almost certainly the only remaining 1964 Sportwagon still running the powerplant and driveline verifiably documented original to this specific vehicle.  I have neither seen nor heard of any other 1964 Buick Skylark Sportwagon which can verifiably make this claim under any circumstances."
Mr. Finley, thank you so much for sharing your story with us and these wonderful pictures.  She's awesome and I'm so glad that we could help you with your restoration.  If you've purchased hub caps from us and would like to share your story and pictures, please e-mail me here.  We would love to hear from you. Hubcaps.com would love to help you with your restoration or daily driver and we're always available for questions and information.
Thanks again,
April
Hubcaps.com