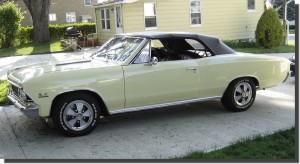 Good Morning and Happy Thursday,
It's been such a busy week here at Hubcaps.com that I almost forgot about you, my loyal readers.  Ha!  You can't get away from me that easily.
Our customer showcase for this week comes to us from Parma, Ohio.  A huge thanks to Mr. Robert Hanna for sharing his gorgeous 1966 Chevrolet Chevelle.  What a beauty she is, isn't she?  Now, Mr. Hanna did change from 14″ wheels to 15″ wheels somewhere along the way.  Normally, for a 1966 Chevy Chevelle Hubcap , you would need our CHV954, which belong to the 1966 Chevelle and are 14″ hub caps.  But Mr. Hanna has 15″ wheels on this baby and purchased our CHV033 Chevy wheel covers .  These normally belong on a 1972 Chevelle, but don't they just finish this classic off?  She's a beautiful convertible with a 454 engine.  I bet she is so much fun to drive around.  If you see him cruising, out and about, give him a wave and honk!
Hubcaps.com is here for all of your hub cap needs.  Whether you need them already fully restored or have a set of your own that you'd like our restoration department to restore for you, give us a call.  We're here for you!  Don't forget to email me with those stories and pictures.   Karijia@Hubcaps.com Thank you again, Mr. Hanna!
She's incredible.
April
Hubcaps.com