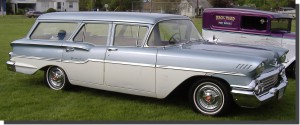 Good Afternoon All!
Thanks to Bob and Marcia, of Walla Walla, Washington (WA.) for sharing this beautiful 1958 Chevrolet Yeoman Station Wagon with us.  In 1958, Chevy introduced 5 new wagon styles.  The Nomad was back, but as a 4 door.  The Brookwood model came in a 4 door, 9 passenger and a 4 door, 6 passenger model.  The Yeoman was available as a 2 door, 6 passenger model and also a 4 door, 6 passenger model.  These new wagons were 9 inches longer than the 1958's and included a larger lift gate.  Approximately 187,000 Chevy Station Wagons were produced in 1958.
Bob and Marcia's station wagon has our CHV58S Chevrolet wheel covers on and they look perfect with her.  She also has 88,000 original miles, a 283 V8 2bbl carb and the original paint.  She looks awesome.  Thanks for allowing us to post her picture here.  Remember, we carry all years of hub caps, from the classics to the newer models of today's vehicles.  We have hubcaps, such as some dog dishes, from the early 1930's.  And we also carry today's years in all makes and models such as Dodge, Nissan, Toyota and Chevrolet.
Thank you again, to Bob and Marcia.  And to everyone out there, keep us in mind when you're looking to restore your classic or just replace the wheelcovers on your late model car or truck.  We have what you're looking for.  Give us a try.
As always, feel free to email me, Karijia@Hubcaps.com or give us a call here at 1-800-826-5880.  We'd love to have the chance to help you out.  Thanks this week, to the awesome states of Oregon (OR), Utah (UT), and Wisconsin (WI) for making Hubcaps.com your hubcap and wheel cover experts.
Take care!
April
Hubcaps.com