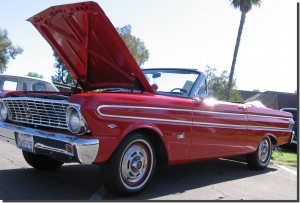 Hubcaps.com recently received an email from a very satisfied customer.  Mr. Chuck Casey came into our store, here in Chino, California and purchased our FRD974 ford wheel covers for his 1964 Ford Falcon Futura.  What a beauty she is!  These are 14″ hub caps and we had our restoration department work double-time on them to have them ready for him in 3 or 4 days.  Here is what Mr. Casey had to say about Hubcaps.com .
"Dear Hub Caps Dot Com, I recently bought 4 awesome hub caps for my '64 Ford Falcon .  I had the pleasure of personally visiting your location in Chino since I live right down hwy 15.   You expedited the cleaning of the hub caps I purchased so I had them in time for the Canyon Lake City's car show.   The show was a success (Chip Foose showed up to pay us a visit) and so were my wheels.   I could not believe how good your guys cleaned up these wheels.   The salesman stated the wheels would come out being a 9 out of 10 and he was right.   I'm not sure if a 10 can be reached unless bought from Ford 43 years ago when they were made.
Stats on my car :
1964 Ford Falcon Futura convertible Convertible
black top with black interior
Red exterior
289V8 with 4 barrel carb and Edelbrock intake
dual exhaust
I've also front disc brakes and air conditioning, aluminum radiator, 1-wire alternator and tons of elbow grease. Because of the Futura / Convertible / bucket seat combo, the car is only 1 of 2900 made in '64.
Chuck Casey"
For all of you Ford Falcon Lovers out there, we have wheel covers for your 1960 Falcon, 1961, 1962, 1963, 1964, 1965, 1966, 1967, 1968, 1969 and 1970 Ford Falcon.  Mr. Casey, thank you so much for your purchase and also for your nice words.  Love the pictures.  She's incredible.
Don't forget, we ship within the United States (New Mexico – N.M., Idaho – ID, Maine – ME, Etc.) and we ship Internationally, too.  We do lots of shipping to Canada and to Europe and are willing to give you a firm quote on shipping outside of the Continental U.S.  Give us a call (1-800-826-5880) or email me at Karijia@Hubcaps.com , we're here to help.  Thanks again Mr. Casey.
Till Next time,
April
Hubcaps.com