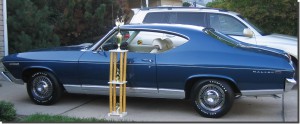 We've had a busy week here at Hubcaps.com .  Lots of orders this week.  Three states stood out this week in our sales.  I'd personally like to send out a thank you to the awesome states of Texas, New York and California.
These three states are our biggest customers.  Thank you so much to TX, NY and CA!  You guys rock! Our customer showcase this week comes to us from Mr. Ed Kelly, of Bel Air, Maryland.  He sends us some pictures of his 1969 Chevelle Malibu.  Mr. Kelly purchased our CHV029 Chevrolet Malibu wheel covers and they look sharp on his baby.
Mr. Kelly writes:
" Attached are a couple of pictures of my 1969 Chevelle Malibu with the wheel covers installed and a trophy from this weekend's car show.
I bought the car in September 1969.  It is Dusk Blue with a parchment interior, 350/300 engine, Muncie 4-speed transmission, 12-bolt rear, bucket seats and console.
It was delivered from the factory with these wheel covers.  They were stolen off the car while it was on the dealer's lot, and the dealer replaced them with standard hub caps, so I'd never seen the car with the covers on it.  I think I like the look. "
We thank you so much, Mr. Kelly, for sharing these pictures with us.  I love the color.  What a beautiful blue.  I think you're right too, about the hubcaps.  They look awesome.
Please keep us in mind when you're looking for those classic or newer wheelcovers.  You might be surprised at what we have. Give us a call at 1-800-826-5880 or feel free to email me here at Karijia@Hubcaps.com .  We'd love to hear from you.
Take care all!
April
Hubcaps.com