Good Morning all!  I hope that you all had an incredible Christmas.  I certainly did.  Time with my family, great food, I am sooooo blessed.  It was nice having the extra time off, with Christmas being on a Tuesday this year.  I took yesterday off so it's a very short week for me.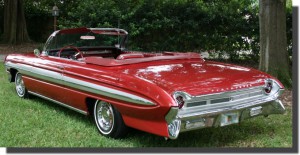 Today's beauty comes to Hubcaps.com from Mike from Florida.  (FL.)  He sends us pictures of his 1961 Oldsmobile Starfire with the Starfire Hub Caps .  Did you all know that the original Starfire was named after a Lockheed fighter jet?  Pretty interesting, huh?  The Starfire was equipped with the most powerful engine available in 1961 and also came with brushed aluminum side panels, leather-upholstered bucket seats, center console, power seats, tachometer and dual exhausts. Mike purchased our OLS61D wheel covers to finish off his baby.  What a beautiful car she is.  Gorgeous color, beautiful lines.  I think she's awesome.  Thank you, Mike for sharing your Olds with us.  She's a beaut!
As we move towards another New Year, I hope that you all have health, happiness and love.  Please keep us in mind if you're looking for wheelcovers or hub caps. Our restoration department can help you restore hubcaps you already have and if you're looking for a hubcap or wheel cover, give us a try.  We have over a million hubcaps in stock and if we don't have it, we can certainly try and find it for you.  We offer free shipping locally and we also ship all over the world.  We have shipped to American Samoa, Brazil, and Argentina.  Our free shipping includes Arkansas, Massachusetts and Nevada, as well as the rest of the Continental U.S.  Drop us an email or give us a call.  We'll do our very best to get you what you're looking for.  Send your pictures to Support@Hubcaps.com or call us toll-free at 1-800-826-5880.
Thanks to you all and I wish you a wonderful, Happy New Year!
April
Hubcaps.com