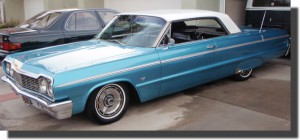 Hi all! Merry Christmas to Everyone!
Only 5 more days, I can't believe it's gone by so quickly. I'm going to try and squeeze in this little blog before I take off for the Christmas Holiday.  Chris came to us looking for Impala Hub Caps for his 1964 Chevrolet Impala and look at these beauties that we shipped to him here in California. (CA.) We sent a set of our CHVE10 wheel covers through our restoration department and they came out in excellent condition. The 1964 Chevy Impala's are just incredible looking cars. 2nd generation, built on the new GM B Platform and related to the Buick LeSabre and the Pontiac Bonneville, it's design was impeccable. I love this car, Chris. Thank you for sending us pictures of your Blue Bird. She's a beaut!
We're busy this week sending out hubcaps and wheelcovers for Christmas presents. If you didn't think about it in time, no worries, we can send out belated Christmas presents as well. If you know a collector or just a loved one who needs a hubcap, please give us a try. Place your order online and enjoy free shipping to the continental U.S. which includes Arizona, Georgia, and Nevada. (AZ, GA, NV) and we can ship internationally, as well. We've shipped to England, Ireland and Guatemala, all with no problems. Give us a call or email us here at Support@Hubcaps.com if you have any questions.  So, let me end with our warmest Christmas wishes to your family from ours at Hubcaps.com.
Remember, Jesus is the reason for the season!
Merry Christmas all!!
April
Hubcaps.com