Good Morning all,  Wow!  The time is just flying by.  Can you believe it's already December 4th?  How does the time get away from me?  It's going to be Christmas and New Year's before we know it.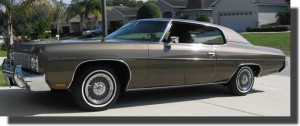 Look at this beautiful 1973 Chevrolet Impala with Impala Wheel Covers that Tom, in Florida (FL), sent to us.  Tom came to Hubcaps.com and purchased our CHV049 wire wheel covers, which work with Impala's from 1971 to 1976.  Don't they look beautiful on his baby?  Tom purchased this Chevy Impala from the original owner in 1998 and repainted it in 1999 with the original color, Dark Brown Metallic.  Tom informs us that everything, including the spare tire, is original and in beautiful shape. This car has beautiful lines and a great big grill.  I love it.  Thanks for sharing her with us, Tom.
Tom's wheelcovers, our CHV049's were lovingly restored by our restoration department.  We did let Tom know that they were used hub caps but he says that we could have fooled him with how good they look.  Our restoration department can have them come out looking like new.  We shipped his hubcaps out to Tom as soon as they were ready and we can do the same for you.  Whether you are in New Jersey, Colorado, Illinois or somewhere overseas, including Guam, New Zealand or Spain, we can get you the hubcaps, center caps or wheel covers that you need.  Please don't hesitate to contact us with any questions you might have.  You can email one of the girls here at Karijia@Hubcaps.com or give us a call at 1-800-826-5880.  Thanks again Tom and let us know if we can ever help you out in the future.
Take care!
April
Hubcaps.com