Good Morning everyone!  Today's classic car comes to us from Mike C. in Texas.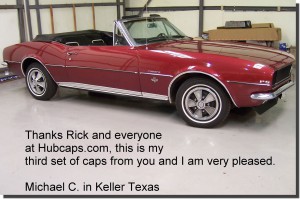 He's actually a repeat customer and has a few cars that he might share pictures of with us.  This is his 1967 Chevrolet Camaro Convertible with OE Camaro Wheel Covers .  Wow!!  Awesome car.  I could imagine driving around in this baby on a nice, sunny day.  This '67 Chevy Camaro is part of the first generation Camaro's.  Built to challenge Ford's success with the Mustang, the Camaro was touted, by Chevrolet Product Managers, as a "small, vicious animal that eats Mustangs."  I think this beauty does that.  Mike ordered our CHV003 wheel covers and we restored them and then shipped them out for free.  We'd love to do the same for the rest of you out there.
Mike, thank you for sending us these pictures.  She is beautiful.  I'm happy that we could help you out.  If anyone has any questions regarding hub caps or wheel covers, please don't hesitate to contact us here at Hubcaps.com .  We'll do our best to help you out.  Give us a call at 800-826-5880.
Thanks to all and Take care!
April
Hubcaps.com