Hi all!  Today our Hubcaps.com featured vehicle is this lovely 1976 Chevrolet Caprice Classic with the extremely nice Caprice Hubcaps .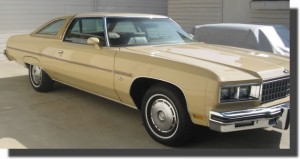 This baby weighs in at a massive 4800 pounds and was longer than most of the full-size pick-up trucks of that era.  Some of the changes for this year included a new eggcrate grille surrounded by new rectangular headlights.  She had modified interior and exterior trimmings and offered the final year of this body style.  It was also the final year that the Big Block 454 V8 was offered.  This Chevy sports our CHV071C wheel covers which can be seen here on our Chevrolet Caprice Hub Caps page .  These beauties were restored by our awesome restoration guys.  You can see that they look almost brand new.  Those guys do an incredible job; & they deserve a round of applause.
I recently had them restore an old trim ring for one of my neighbors and he couldn't believe it was the same beauty ring.  It looked perfect!  We offer new and used hub caps, restoration services and free shipping inside the Continental U.S. We ship internationally also and have reasonable shipping and handling costs for destinations outside of the Continental U.S.  Give us a call at 1-800-826-5880 or 1-909-597-2600.  We'd love to hear from you.
Thanks again and take care all!
April
Hubcaps.com