Morning and Happy Friday to you all! Today I'm sharing this awesome 1949 Plymouth Woody Station Wagon & the Plymouth Hubcaps with you all. Ken sent us pictures of this beauty that he owns in New York. Isn't she gorgeous? How fun would it be to cruise around in this baby in the sweet summertime?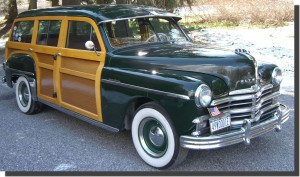 The 1949 Plymouth Woody was the first all steel station wagon. But Woodies were expensive to build and expensive to maintain. There were 3,443 of these cars produced. The engine was a 117 cubic inch L-Head Six. She had three seats and sat 8 passengers. The wood bodies were produced by a company called U.S. Body and Forging Co. Some of the options available for this baby were an electric clock, two different push-button radios, 3 heater options and 3 different paint colors.  We have many hub caps for the classic Plymouth's. Please visit our 1949 to 1965 Plymouth page to see if we have what you're looking for. If you don't see it, give us a call.
We have many hub caps and wheel covers that we haven't had a chance to picture on the web site yet.  I'm running out of pictures. I would love for you all to email me pictures of your cars and trucks and I'll get them posted on here. Feel free to email us at Support@Hubcaps.com . Just send me your pictures and stories. We'll show off your beauties!  Thanks all…Thanks so much to Ken in New York for sending us the pictures of his baby. She is gorgeous and we thank you for allowing us to post about her here.
Take care,
April
Hubcaps.com