Good Morning Everyone,  Today we are featuring this incredible 1965 Chevrolet Chevelle Malibu SS & the OE Chevelle Hubcaps .  Wow!  This car is awesome.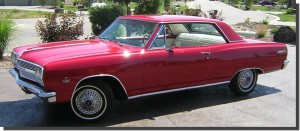 It's Regal Red color stands out and shines.  Four trim levels were available for this baby; the  300, 300 Deluxe, the Malibu and the Malibu SS.  The Super Sports were available in Convertible and Hardtop Coupes.  It has a new horizontally split grille and came with options such as air conditioning, power steering, power brakes, faux wood sports steering wheel, a tachometer and a dash-top clock.
Our CHV955 wheel covers, for the 1965-1966 Chevrolet Chevelle, look just perfect on there.  All shined up and ready to go!  We specialize in factory original wheelcovers and hub caps so if you're looking for something classic, please give us a call.  Visit our on-line catalog to see what we have to offer.  Feel free to email us with any questions you might have, at Support@Hubcaps.com. Our thanks to Michael for sharing this beauty with us.  I bet she roars!
Take care all,
April
Hubcaps.com