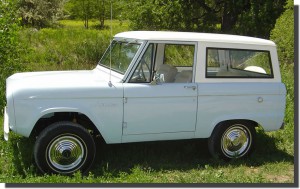 Good Morning from Hubcaps.com in Southern California! It's been hot so today's cooler weather is much appreciated. I'm sure the firemen in the hills above Pasadena are appreciating it too. What heroes they are! Thanks to them all from all of us here.
Our featured vehicle today comes to us from Bryan, in Windsor, Colorado. It's this very cool looking 1966 Ford Bronco with the very cool looking Bronco Hub Caps . I love the very simple styling of this Bronco. It's small size, 92″ wheelbase, made it very popular for off-roaders. Standard was a Dana Corp. transfer case and locking hubs but many options were also available. The base price was $2,194.00 and 23,776 were produced that first year. They sold well. Some of the options included front bucket seats, rear bench seats, a tachometer and a CB Radio.
Bryan was very pleased with his FRD995 wheel covers that we sent him for the front wheels. We also refurbished the back wheel covers, our FRD994's for him. Doesn't she have a great sporty look? I love it! Thanks so much for sharing her with us, Bryan. What an awesome truck. Once again, I'd like to let you all know that we're here to help you. If you have any questions or concerns, feel free to call us at 1-800-826-5880 or email Karijia at Karijia@Hubcaps.com . We'll be happy to help you. Please send me your pictures and stories, too. I'm always happy to read them.
Take care,
April
Hubcaps.com