Hey all,  Today Hubcaps.com is celebrating this beautiful 1970 Ford Mustang & the stylish Mustang Wheel Covers !  What a great color she is!  Love this green.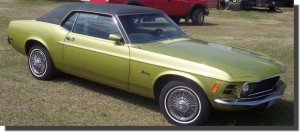 If anyone knows what the color is called, please let me know.  Look at those OEM wheel covers!!  They are our FRD639 Wire wheelcovers for 14″ wheels.  They are just awesome, aren't they?  They came to us dirty and banged up and our restoration department made them look brand-new.  This 'Stang was big.  She had the dual lights in the grille and differently shaped rear taillights but boy, doesn't she have that look of power?
The Mustang was growing in size and weight and apparently, that wasn't what the customer wanted at the time.  The Pony cars were diminishing in sales by 1970 as people were searching for a more fuel efficient vehicle.  Well, we all want them now, don't we?  She's truly a classic.  We're happy to showcase this Mustang and her hubcaps.  If you'd like your car or truck featured here, please don't hesitate to email us at Support@Hubcaps.com .  I'll be happy to post it for you.  If you have any questions, please visit Hubcaps.com or call us at 1-800-826-5880 or 1-909-597-2600.  We'll help out in any way that we can.  Thanks to all.
Take care,
April
Hubcaps.com