Good Morning Everyone!  Today we have another beautiful car from our friend Mike from Florida.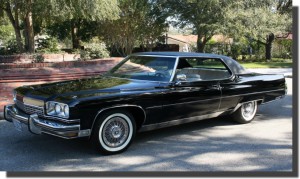 He sends us pictures of his gorgeous 1973 Buick Electra Coupe along with a little note saying;  "Rick… I love you guys and would only buy caps from you for my cars…I refresh about a dozen original, low mile cars per year and here is my 1973 Buick Electra Coupe with the last set of original wire caps I bought from you… 31K original miles and one beautiful deuce & a quarter."
Mike purchased our BK026 wheel covers from our OEM Electra Wheel Covers page and we sent them through our restoration department before sending them out to him.  Let me explain a bit about restoring these wire wheel covers.  Our guys in the restoration department remove each of those little spokes.  They polish each one, buff the whole hub cap and then paint the background black.  It's simplified but I have to let you know that it's a lot of work.  When they leave here, they look almost brand new.
Mike, thank you for sharing another one of your classic cars with us.  His other vehicle was a 1961 Oldsmobile Starfire that I blogged about here. Your cars are just beautiful. I love opening your emails. 😎  Don't hesitate to contact us with any questions you might have.  Call us toll-free at 1-800-826-5880 or email us at Support@Hubcaps.com .  We're always here to help.
Take care all!
April
Hubcaps.com