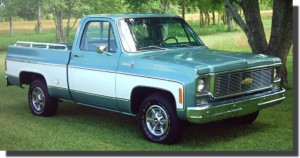 Good Morning everyone,  Willie, from Opelousas, LA sent us a very nice email regarding his 1978 Chevy Truck…  "Hi, my name is Willie from Opelousas, LA and I have been waiting for my truck's paint job to be completed before putting on the hub caps purchased from Hubcaps.com . It's a welcome change from what I used to see. They sure look nice and brings out an image of distinction to the truck. This 1978 truck has been with me for 30 years. I wanted to keep the truck as close to original as possible so I decided against new rims and purchased the hub caps. I am so glad I found Hubcaps.com through surfing the internet. Now I look forward to another 30 years. Thanks guys."
Willie, we'd like to thank you so much for purchasing our CHV121A wheel covers from our Truck Hubcaps page. These hubcaps fit Chevrolet Trucks and Vans from the years 1977-1988. They look perfect on those 15″ wheels, don't they? She's a beauty, Willie. A keeper, indeed! Thank you so much for sending us the pictures and the kind words.
We're always here to answer your questions. If, after viewing our on-line catalog at Hubcaps.com, you have any questions, please don't hesitate to call or email us. Our toll-free number is 1-800-826-5880. You can email us at Support@Hubcaps.com.  Thanks again to Willie and I hope you all have a great week.
Take care!
April
Hubcaps.com