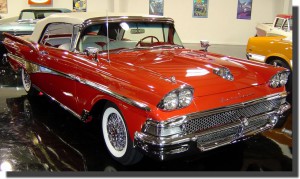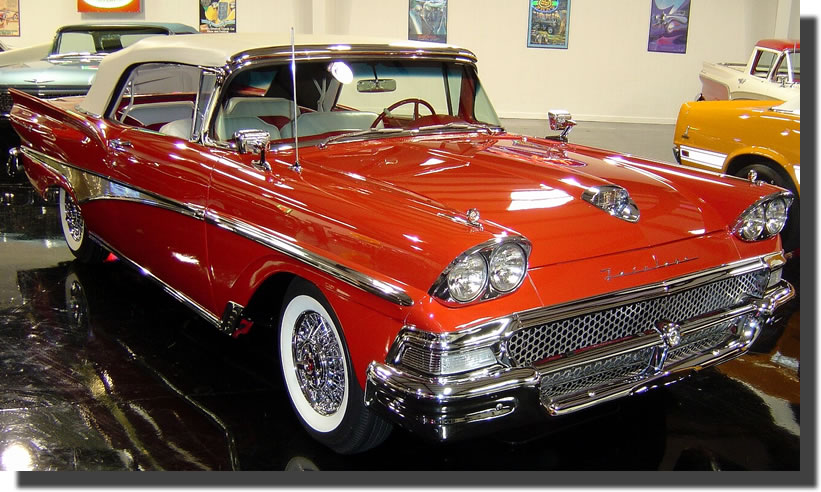 Good Morning everyone!  Wow, take a look at this incredible 1958 Ford Fairlane! This beauty comes to us from Andy. He purchased a set of our FRD58 wheel covers from the Fairlane Wheel Covers page and we sent them to him after a trip to our restoration department. He doesn't have them on the vehicle yet but I'm hoping for pictures when he puts them on.
Andy says  "Hi April, Thanks for the e mail regarding my 58 Ford Fairlane 500 Sunliner and the hubcaps I recently purchased for it. I have included two photos of the car which as you can see came with Kelsey wire wheels. I intend on competing at the Hershey National AACA meet with it in Oct. The reason I wanted the original hubcaps is to bring the car back to it original condition. I intend to purchase the original rims and use the hubcaps for the Hershey meet. Since I have a few months to do that I have put the hubcaps away until I find a nice set of rims to mount the tires. As you can see the car is in mint condition recently undergoing a complete professional restoration. It is a car that I have been looking for many years as I owned one in high school. I will forward you the updated photos with your hubcaps and I am very pleased with their condition. Thanks, Andy"
Andy, thank you very much for these awesome pictures of your car. She is just incredibly beautiful and I thank you for sharing her with us. She rocks!  For those of you restoring a car or truck, check us out. Our on-line catalog at www.hubcaps.com is very extensive. If you don't see something listed, please call us. Our toll-free number is 1-800-826-5880. We are constantly receiving new inventory and might not have had a chance to place the hub cap on the web site. Feel free to email us at Support@Hubcaps.com with any questions you might have. We're very happy to help.
Take care all,
April
Hubcaps.com