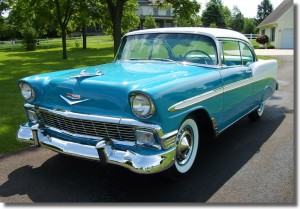 Hello Everyone,  I hope you all had a great weekend!
We will begin this week with sharing this fabulous 1956 Chevy Bel Air & the fabulous Classic Chevy Hub Caps that were on the vehicle & sent to us by Kenny Courtright who lives in Mitchell, Indiana (IN). Kenny purchased a great set of #CHV56 15' Chevrolet "56 Wheel Covers from our online catalog at Hubcaps.com.  Kenny we must say the hubcaps you picked look perfect on your 56 Chevy Bel Air, wow you have such a beautiful car.  Kenny Writes  "It took me 51 weeks to restore, but im happy with the outcome. The Color is twilight turquoise and india ivory with matching interior. Ron Pierce of Mitchell, Indiana (IN) , did the body and paint"
Thank you very much Kenny for sending us pictures of your Chevy, and the paint looks perfect Ron great job. Kenny we hope you enjoyed the set of Hubcaps you purchased and thanks again for sharing the pictures of your 56 Chevy Bel Air.  The hubcaps on the 1956 Chevy featured above went through our restoration department where are workers removed dents, buffed, polished, and repainted them to make them look brand new. Great job guys keep up the hard work.
We are located in Southern California and we offer free shipping to the Continental US. So if you would you like to purchase new or used hubcaps for your car or truck, then take a look at our website here or call us toll free at 1-800-826-5880 and we will be sure to help you find exactly what you need. At Hubcaps.com our costumers come first and we are always willing to help.  Have you bought hubcaps from us before and would like to see your car or truck on our website? If so, send me an email at Karijia@Hubcaps.com and I will be sure to feature your vehicle on our website.
Thanks and Have a Good Day
Karijia
Hubcaps.com