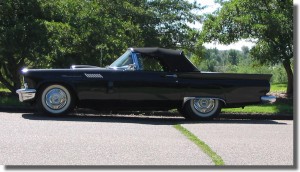 Good Afternoon Everyone,  Take a look at this marvelous 1957 Ford Thunderbird sent to us by Michael Pryor.
Wow! You just gotta love this amazing '57 T-Bird. In the 1957 this Ford T-Bird was more of a radical style with the reshaped bumper, grille, larger tail-fins, and the tail lights were bigger. Ford Thunderbird sales in 1957 made the 1958 models late due to the 21,380 vehicles that were sold, taking an extra three months of production. What makes the '57 Ford T-Birds so special is that the T-Birds were the last two seater Fords ever sold or built, until 1982 when the Ford EXP Sport Compact Car was introduced.  The set of Thunderbird Hubcaps featured on this amazing Ford Thunderbird are #FRD57T located on our online catalog at Hubcaps.com .
Although the hubcaps on the 1957 Ford Thunderbird to the left look brand new, they actually went through our restoration department where used hubcaps and center caps are restored. The guys in our restoration department work very hard at restoring all types of hubcaps and center caps for every make and model. Wow, look at what a great job they do, the hubcaps on this ' '57 T-Bird look ravishing, just look at how much they stand out.
Thank you very much Michael Pryor for sharing this fabulous picture of your vehicle.  Hubcaps.com offers new and used hubcaps, restoration services, and free shipping inside the Continental U.S., Contact us to order hubcaps or a hubcap you need at 1-800-826-5880 or order online here . We also ship internationally with reasonable shipping and handling costs for anyone outside the Continental U.S.  Feel free to contact us with any questions you have at 1-800-826-5880 or 1-909-597-2600, and we will be sure to help you locate exactly what you need.  Share your pictures and story on our website, if you have bought hubcaps from us in the past by e-mailing us at Support@Hubcaps.com . We would love to hear from you!
Thanks and Take Care
Karijia
Hubcaps.com