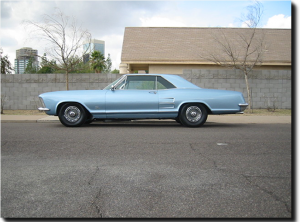 Hello Everyone,  I hope everyone is having a great day!
Wow! Check out this amazing 1963 Buick Riviera, the OEM Riviera Wheel Covers on this '63 could be found on our online catallog at Hubcaps.com, the exact part number is #A13 15" Riviera '63 . This fabulous 63 Buick Riviera was introduced in October of 1962 as a 1963 model, with a price that ran up to about $5,ooo. This 2 door hardtop 63 Riviera was limited to only 40,000 models or less a year, depending on demand. Not to mention what a fast car this 1963 Buick Riviera is, it could run from 0 to 60 mph in 8 seconds or less. Wow what a speed racer.
If you have a Buick and need hubcaps, check out our Buick Hubcaps page here to locate the exact hubcaps you need or if you have hubcaps that need to be refurbished then give us a call at 1-800-826-5880 and we will be sure to give you all the information you need to have your hubcaps looking brand new.  To get hubcaps to look brand new, we send them through our restoration department where dents are removed and they are sanded, buffed, polished and repainted. The guys that work in our restoration department at Hubcaps.com work very hard to restore all types of hubcaps and center caps. Thanks guys and keep up the good work!  Would you like to purchase a hubcap or hubcaps then visit our website at Hubcaps.com, where you will find hubcaps for every make and model of any car or truck. We also offer free shipping on all hubcap orders in the Continental U.S., so be sure to take advantage of this great offer. Order now at Hubcaps.com or give us a call at 1-800-826-5880 and we will be more than happy to assist you with your order.
Thanks and Untill Next Time
Karijia
Hubcaps.com