Good Morning Everyone,  I hope you all had a great weekend! Today we are featuring this fabulous 1963 Chevy Impala, that was sent to us by Gerald Brown from Palestine, TX.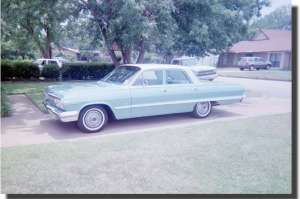 Wow Gerald your 63 Chevy Impala looks great ! Gerald purchased a set of 14″ #CHVE7 Impala Hubcaps from our online catalog at Hubcaps.com for his 63 Chevy.  Gerald says,  "About Seventeen years ago my cousin B.J. Coleman and I found an old car in Palestine,Texas. It was a 1963 Chevy Impala with four doors and in good shape: this car still had all of it's original parts, the engine (283), transmission (2 speed), seats, and radio. With the heat in Texas the car came with power steering and A/C and it still works Great. I had gone through many growing pains and was short on money. Investing in the car helped me learn to have more patience and to keep the faith. Sometimes it was as if I was taking two steps forward and four steps backward, but I kept on the straight path and persevered. Without a fresh paint job my daughter D.D. and her friends didn't want to ride in the old Car they called a hoopty. They would ask, 'You're not completed with the car yet? We're going to give you a party when you complete it.' Well, no party yet you guys. It's been painted now, come on with it. I have won many trophies but the one that Means the most I won from Rising Star COGIC church Best of Show 2006. My dream car is a 1962 SS Chevy Convertible. Hopefully one day my dream will Become a reality. 1962 was a special year for me. My thanks goes out, too all the people who have helped me along the way with G' 63.  Gerald Brown Tyler, Texas"
Well Gerald your car looks great, I bet your daughter and her friends would love to be seen in it now, huh? Keeping the faith in everything you do, is very important, and thats exactly what you did and look at what a fabulous outcome. Thank you very much Gerald for taking the time to e-mail us information about your 1963 Chevy Impala with Original Impala Hubcaps .  Visit our website at Hubcaps.com to locate hubcaps or wheel covers for your car or truck. Locate new or used hubcaps by using our online catalog or contact us at 1-800-826-5880 and we will be sure to help you locate exactly what you need.  Have you purchased Hubcaps or Wheel Covers from us before and would like to share your story on our website? Then email me pictures and information at Karijia@Hubcaps.com and we will be sure to feature your vehicle on our website.
Thank you and have a Great Day,
Karijia
Hubcaps.com