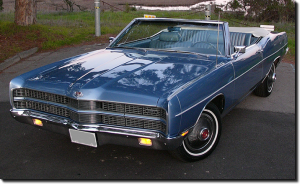 Happy Friday Everyone,  I hope everyone is well and having a great Friday! Today at Hubcaps.com we will be featuring this amazing 1969 Ford XL Convertible with OEM Ford Hubcaps from our stock, sent to us by Brian Cooley from San Francisco, Ca.
Brian Says, "Attached is a photo of my 1969 Ford XL Convertible that you have supplied 5 hubcaps for. This car has a 390 and just over 70k original miles. Changing the Wheel Covers to the correct style was the first thing I did to the car " Thanks Brian for taking the time to share these wonderful pictures of your Beautiful 69 Ford XL Convertible. Your 69 Ford XL looks amazing and may we say you picked a great set of 15" Galaxie Hubcaps #FRD647 .
Check out our online catalog here, if you would like to find a hubcap or hubcaps for your vehicle. If you have any questions give us a call at 1-800-826-5880 or e-mail us at Support@Hubcaps.com and we will be more than happy to help you.  Send us an e-mail of your vehicle if you have purchased Hubcaps from us in the past and would like to be featured on our website.
Take Care All and Have a Great Weekend
Karijia
Hubcaps.com