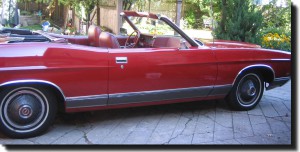 Good-Morning Everyone,  I hope everyone is in the best of health and enjoying their Wednesday morning!
Today, we will be sharing this awesome 1971 Ford LTD Convertible sent to us by Charles Pietrello of Worcester, Massachusetts (MA.). Something that is pretty cool about this '71 Ford Convertible: it is completely original and the only thing Charles has done to his Ford LTD Convertible is repaint it and buy a set of new Ford Hubcaps from Hubcaps.com . Charles purchased a set of Ford LTD Hubcaps #FRD647 from our online catalog. Your car looks incredible Charles great choice of hubcaps!
Check out our website at Hubcaps.com if you would like to purchase wheel covers or center caps. You can also give us a call toll free at 1-800-826-5880 and we will be sure to answer any of your questions.  Thanks Charles for taking the time to send us cool pictures of your 1971 Ford LTD Convertible, we hope you enjoyed our service and your car looks great.  Have you bought hubcaps or wheel covers from us in the past and would like to see your story here? If so, then simply send us an email at Support@Hubcaps.com to have your story heard.
Hope to hear from you soon!
Have a Great Day
Karijia
Hubcaps.com