Happy Friday,  I hope everyone is enjoying there day!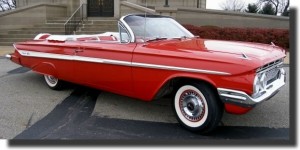 Today we will be featuring this cool 1961 Chevy Impala with OE Impala Wheel Covers – it was sent to us by Mick Tims. This fabulous 61 Chevy Impala has a great set of 14" Impala Hub Caps . Mick purchased this set of Chevy Impala Hubcaps #CHV61 from our online catalog at Hubcaps.com for his 1961 Impala. Although the Chevy Hubcaps look new, they were actually sent through our restoration department where they are restored. The guys in our restoration department work very hard at restoring all types of center caps and wheel covers for every make and model of vehicle. Great job guys and keep up the hard work!  Thanks Mick for taking the time to share the fabulous photos of your Chevy Impala.
Wow! I just love the color of your 1961 Chevy Impala, I bet you get a lot of attention in this car and congratulations on your first place award at the Spring Kingwood Car Show.  If you are missing a hubcap or hubcaps, visit our online catalog at Hubcaps.com or contact us toll free at 1-800-826-5880 and we will be sure to help you locate exactly what you are searching for.  Have you purchased Hubcaps from us in the past and would like to have your car or truck featured here? please don't hesitate to email us at Support@Hubcaps.com . We would love to hear from you!
Take Care and Have a Great Weekend
Karijia
Hubcaps.com