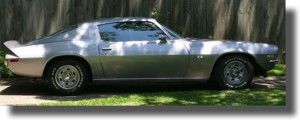 Hello Everyone,  I hope you all had a Merry Christmas and enjoyed spending time with your family and friends.  Check out this 1971 Camaro SS 350 that was sent to us by Barry Robinsin.
Barry purchased a set of #CHVC64 Chevy Camaro Center Caps from our online catalog at Hubcaps.com. At Hubcaps.com we offer different Chevrolet Hubcaps along with many other Hubcaps for almost about every make and model. Barry writes,  "Here is the picture that Rick requested. 71 Camaro SS 350, 4 speed, Hurst Shifter, Posi-track. My wife and I are original owners. Replaced two Hub Caps lost on the Hot Rod Power Tour from Little Rock, AR to Madison, WI in June. Guess I should take some pictures in the Sun."
Thank you Barry for the pictures of your 1971 Camaro the center caps look perfect. Everyone here at Hubcaps.com thinks your 71 Camaro looks awesome.  Feel free to visit our catalog at Hubcaps.com to order online or you can call us toll free at 1-800-826-5880 and we will be sure to help you find the parts you need.  If you have purchased hubcaps or center caps for your vehicle from us in the past and would like to be featured on our website just send us an email at Support@Hubcaps.com, we would love to hear from you.
Happy Holidays
Karijia
Hubcaps.com