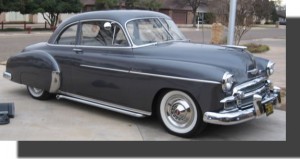 Happy Hump Day, Well I'm back with another cool car to share with you, this is one of my favorites a 1950 Chevy that was sent to us by Jasper.
Wow, check out this fabulous 1950 Chevrolet it is in great condition and the #CHV54 15′ Chevy Hubcaps look immaculate. Jasper purchased a set of Chevy Hub Caps by calling us at 1-800-826-5880, where we have trained specialist who helped him locate the exact hubcap he needed. If you are searching for a hubcap for your car or truck call us toll free or visit our online catalog at Hubcaps.com and don't forget we do offer free shipping on all orders in the Continental U.S.
Hubcaps.com specializes in original manufactured wheel covers and center caps for just about every make and model. We take our time to restore many types of hub caps and the guys in our restoration department work very hard to remove dents, scratches, sand, buff, polish, and paint the hubcaps to bring them back to life. When the hubcaps come out of restoration they look almost perfect, as you can tell in the picture above. Send us a picture of your car or truck along with some information, if you have purchased hubcaps from us in the past and would like to be featured on our website.
Thank you for visiting
Karijia
Hubcaps.com