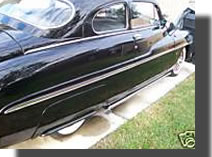 Hello Everyone,  I hope you all had a Happy New Year and enjoyed the holidays.  Today we will be sharing this 1950 Mercury that was sent to us by Chet who lives in Hempstead – a little town in Houston, Texas.
Chet purchased a set of 69 Mercury Hubcaps from our online catalog at Hubcaps.com.  Chet Writes,  "Rick thanks for contacting me regarding the 69 Mercury Hubcaps that went on my 50 Mercury. First let me express my appreciation for sending me a total of 4 hubcaps that were in Excellent condition. It means so much to get quality product that is not all beat up, tarnished, or rusty. You are welcome to use my first name, Chet and that I live outside Houston, Texas in the little town of Hempstead. I have included a couple of pictures that you are more than Welcome to use as you see fit. Unfortunately these do not show off the hubcaps, but I plan on taking some new photos! .. Thanks!"
Thank you very much Chet for sharing those kind words about your experience with Hubcaps.com and for the pictures of your 1950 Mercury. If you are looking for hubcaps or center caps for your vehicle check out our online catalog at Hubcaps.com or feel free to contact us toll free at 1-800-826-5880 and we will be sure to help you find the hub caps you need.  Send us a picture of your car or truck along with a little information about your vehicle to Support@Hubcaps.com if you have purchased hub caps from us in the past and would like to be featured on our website.
Thanks for Visiting and See Ya Next Time
Karijia
Hubcaps.com