Chrysler Pacifica – not the Pacific Ocean .. just letting you know.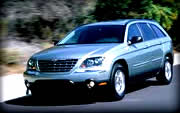 The Chrysler Pacifica & the Factory Original Chrysler Pacifica Hubcaps was considered on of the largest crossover wagons on the market. The Pacifica basically wanted to mix the driving attributes of a compact car with the utility that was offered on vans & SUV's. The Pacifica had the four front hinged doors, an elevated seating position, seating for about 5 or 6 passengers, and the choice of front wheel drive or all wheel drive to go along with those fancy Pacifica Wheel Covers .
If you compare it to the other crossovers on the market, the Pacifica was an upscale vehicle that offered more features than any other car in its class. It was even wrapped in an elegantly chiseled sheet material. The only thing with this car is that even though it had a lot of room in the front for the driver & the passenger, the seats in the back weren't so roomy. It was really only okay for kids & only left a little bit of cargo room.  I think the great thing that I like about the Pacifica is that the Pacifica Hub Caps that came on it almost look like Mercedes Wheels .. almost. But that's all I really like.
Do you like it?
Mykalanne.
Hubcaps.com