Happy Birthday to Me ! Yay ! But anyways ..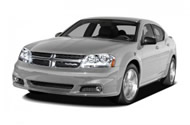 Technically, yes; the Dodge Avenger came out in two different time periods, but the Dodge Avenger Wheel Covers came out from the years of '95-'00, then from '08-'09.  The first Avenger that was released was a two-door coupe & was known for its good looks & the fancy OE Avenger Hubcaps that came on it. When the 2008 model came out, it was the successor to the Status sedan. Dodge tried to market the Avenger & the Original Avenger Hub Caps as a midsize car that has typical attributes to it, but offered in a family size vehicle.
The redesign on the Avenger had a new 3.5 Liter V6 & 6-speed automatic transmission. Since it has a longer wheelbase than the Stratus did, it has a roomier interior, & more electronic gadgets to make it more appealing & "spice things up" .
It's a pretty good buy, right?
Mykalanne.
Hubcaps.com