The Caravan invented the Minivan – if you want to summarize it into five words. The Van offered fancy Caravan Hub Caps & a lot of room in something called an "easy-to-drive" package. The Dodge
Caravan pretty much became the new Soccer Mom obsession over night.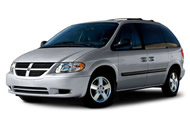 The Caravan has always been the van to stay a step ahead in the market: it was the first one to have a sliding door, then the first one to have two sliding doors. For some years after that, it was known to be the most versatile van & the van that was the most pleasant to drive .. it makes me want to buy the Caravan with those Caravan Wheel Covers already installed – they're cheaper to maintain !
Since the bar has been risen so high by the Japanese & Korean manufacturers, it's a little hard for the Caravan to keep up. There was a new model of the Minivan that was reintroduced in 2008; Dodge had officially discontinued the Caravan – which means that the only model that was available was the extended-wheelbase Grand Caravan. Either way, it still seems like a pretty reliable van you can chauffeur your kids in, you know?
Just a thought,
Mykalanne.