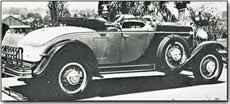 As you probably already know, the very first Hubcaps were introduced between the 1920s & 1930s. These were the OEM Hubcaps that were made with sleek are & deco designs. The most popular brands then were Phelps, Stewart, Houk, and Budd – which is kind of funny if you compare them to the names that we have now.
The Hubcaps that we have today – like Kia Hubcaps & Kia Optima Hubcaps – are just specifically made for different types' of cars. Hubcaps can be made in plastic, steel, and even aluminum.
Do you have any of the old caps?
Mykalanne.