In Europe, Chevrolet s a Swiss-based firm (in Zurich) that mainly sells cars produced by GM Daewoo – so I guess they sell both Chevrolet Hub Caps & Daewoo ones .. but even if I did get a Daewoo, I'd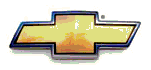 want the Chevrolet Caps on it.
Until about 2005, Chevrolet Europe sold only a few models, mostly United States domestic market (USDM) models modified to suit European regulations. Among all of those were models like the Chevy Alero and the Chevrolet Trans Sport – both with Original Chevrolet Hub Caps . The current generation of North American-built Chevy Impala V8 sedans have also been available in Europe in recent years.
Do you have any of the European models?
Mykalanne.