Yes, on March 29, the owner of Hubcaps.com (Rick) and two of our employees (Lauro & Lorenzo) went to Culver City, CA to go pick up some OE Hubcaps – and boy did they pick them up. They come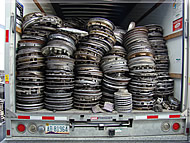 back with a whole U-Haul truck load of Factory Hubcaps!
Isn't that amazing? They were gone from 8:30am and then they came back at 8:00pm. There's a shop in the LA area and that's where they got our new stock of Hubcaps from (:
They're going to start unloading today (March 30) & God knows how long that's going to take. Plus they still have to put them away?
Boy these guys are committed,
Mykalanne.